The Leading School Uniform Department Store in Albany, NY
The Best-Quality School Uniforms at Even Better Prices!
B. Lodge & Co. has been supplying Albany, NY students with school uniforms since your great-great-grandparent's day! On top of that, our department store's pricing has always been lower than our competition–often even lower than online prices.
We're Proud to Serve an Array of Local Schools
We're an official supplier for many local parochial, public, and charter schools in the Capital District. Our friendly and expert staff will help you fit your student with the right school uniform and items for your school. We have all the accessories you could want, including ties, handkerchiefs, belts and more. We also carry Easy Strider shoes in boys' and girls' sizes. Our clothing store supplies school uniforms and supplies to all of Albany, NY.
The Source for Onsite Embroidery & Screen Printing
We provide onsite school logo screen printing services while you wait. We have logos on file for all of our listed schools, in addition to many other schools. Our clothing store can accommodate fast turn-around times on embroidered logos.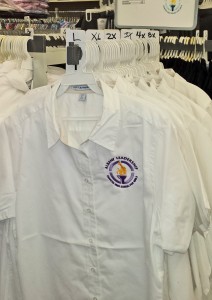 Access School Uniforms All Year Long!
We carry school uniforms year-round! So when your child has a growth spurt or spills grape juice on his khakis, replacement uniforms are here. If the size isn't in, we can get it quickly. Most department stores only offer uniform items at the beginning of the school year and do not restock the rest of the year.  We are your uniform and clothing store!
View the Selection at our School Uniform Store
• Pants          • Sweaters    • Shorts      • Ties
• Jumpers     • Tights         • Shirts       • Gym Attire
• Skirts         • Socks          • Blouses    • Vests
• Shoes        • And Much More!
If you're interested in learning more about our local school uniform store, don't waste another moment. Contact our team about the uniforms at our discount store today! The staff members at B. Lodge & Co. take immense pride in catering to clients throughout Albany, NY and the rest of the Capital Region. Whether you're in need of stylish sweaters or gym class attire, our department store has got you covered every step of the way. It's that simple!
Family Owned Since 1867, B. Lodge is Committed to Offering the Students of the Albany, NY Region Quality Uniforms at Affordable Prices at our Discount Store All Year Round! Contact us today for more information!